The Role of Human Resource (HR) Managers When Technology Comes To Their Rescue During Pandemic Times & How Integrated Human Resource (HR) Software Is Reshaping Their Industry.
The current ongoing Corona Virus pandemic has disrupted the whole of the world and the various organizations spread across the globe. As the world starts to adjust towards the new Social Distancing and Hygiene norm, the biggest challenge lies with the Human Resource (HR) Department is not just to implement the social distancing norms, but also effectively incline the entire organization towards a new work environment regime i.e. Remote Workplace and Remote Workforce combined together and popularly termed as Remote Work Model.
Organizations across the globe have started switching to a remote work methodology at a scale and rate which they have never experienced as they may never have imagined this environment. The Human Resource (HR) Managers are under enormous stress in not just processing the paperwork and providing solace to their employees who have lost their opportunities and their kin but also they are trying to keep their current colleagues more productive, more motivated, continuously engaged and seamlessly connected on the go.
With the need for remote working being a new norm, the demand for automation and collaboration tools would grow, which in turn leads to shifting and adoption of Cloud Computing on a large scale.  Information Technology (IT) sector gradually would see a lot of innovative and potential opportunities to grab in order to handle these "special" and "ever-growing" needs, especially the Product Development companies.
The Human Resource (HR) department of various organizations spread across all the continents have implemented remote-work policies which were designed to be meant for only a few or else for the Departmental Heads but never a situation like the current times where the whole of work-force would work remotely being away or far away from the workplace, as their structured and unstructured remote-work policies was not designed in a futuristic way of anticipating even the unanticipated times, that too without the need of Information Technology (IT) intervention.
However, there are few modern organizations with forward-thinking entrepreneurs who were well prepared for the work from the home norm as they were equipped with modern, innovative and best-in-class tools for collaboration without any significant impact on their productivity. As the traditional ways of working have become things of the past and Remote Work being an integral part of every organization, the Human Resource (HR) department ensured seamless Remote Work options through adaptation of digital collaborative tools by Sathguru.
Tools from Sathguru like #Simvey #SART #4S #RIGA #DRONA #Tulsi #Signoh #Infogrid #DocInDesign #Tetra etc. has become a savior in times like the current one's when the only option to operate is by a remotely distributed environment. And thus the crisis has presented the Human Resource (HR) department an opportunity to empower their organizations with #technology and focus on #digital #innovation to not just survive but also thrive. These tools enabled the Human Resource (HR) department to strike a balance that too during pandemic times and forge an effective path towards a modern future of work.
---
Author: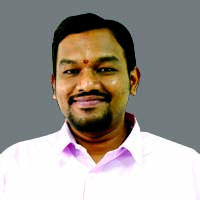 Santosh Kumar CH
Assistant Manager – Business Development
E-mail: santoshk@sathguru.com
Share